DARA devices
Large-scale mesh technology to dynamically connect luminaires, sensors and other smart objects.
The embedded mesh technology and the use of highly-secured cloud services allows you to remotely configure any desired setup and to easily add or remove new devices, sensors or luminaries from the network. Luminaires can be controlled individually or grouped in various scenarios for a hyper-personalized scene-setting that allows immersive, memorable, distinctive lighting experience.
EASY INSTALLATION
FAST CONFIGURATION
DALI FULLY COMPATIBLE
Limitless possibilities. DARA devices can be used together with any DALI luminaires, from any producer. DARA allows you to automatically identify and connect devices in complex mesh architectures, providing complete management control of luminaires and sensors.
This network of intelligent lighting endpoints automatically generates data to provide insights into space utilization, energy optimization, enhance customer experiences, heatmaps and many more.
Unlimited users can benefit from up to 16 scenarios in a mesh for unique, hyper-personalized lighting experience. Automatic or human assisted firmware updates provide seamless transitions to the newest DARA versions via secured Internet Gateway.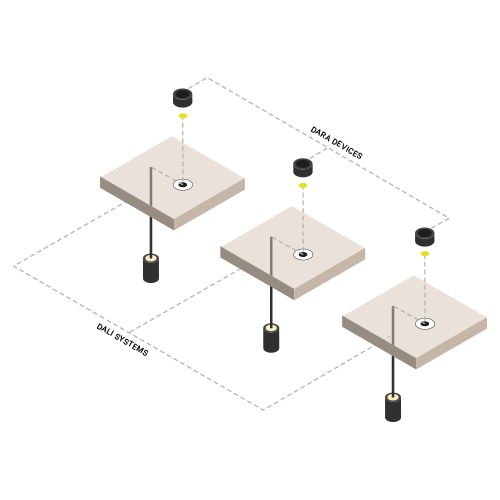 End to end lighting design,
connectivity solutions, and services.
We reduce technical and financial risks to bring your desired project alive in the fastest way possible.  Our certified award winning lighting designers and engineers are ready to take any challenge, from mechanical to electronic engineering to design, prototype, test and develop according to your very specific needs.